There are a lot of interesting animated films coming out later this year and possibly next. I'm only doing the ones which have already had a trailer released. We have more from Pixar in the future and even some stop motion from the likes of Tim Burton. So, without further ado, here's my thoughts on the future animations.
PARANORMAN
Release Date: August 17th
Directed by: Chris Butler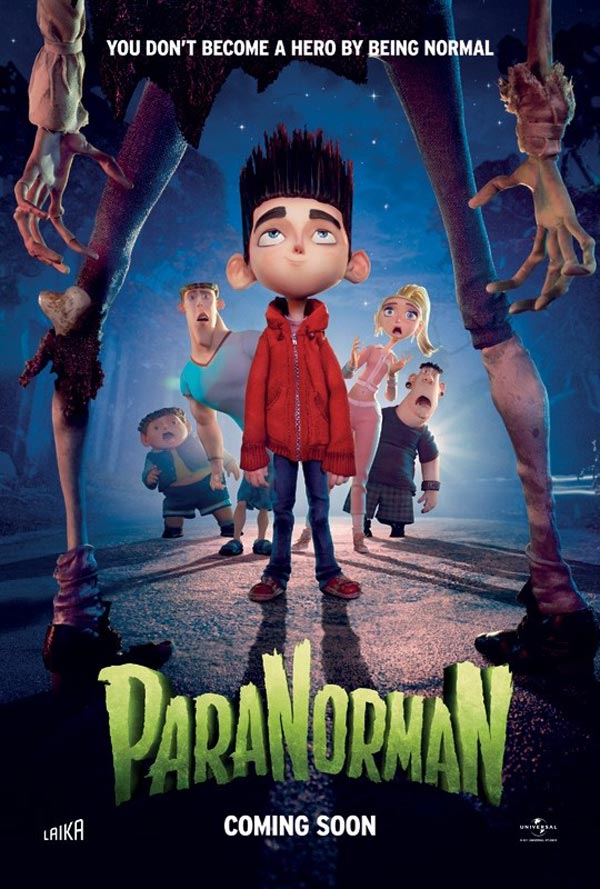 This movie from the creators of Coraline (one of my favorites) is about a boy named Norman. He's always been the weird kid in school, but there's a reason for that. Norman has the spectacular power to see ghosts and the dead. One day when he's warned by one of the dead that something bad's going to happen, he must band with a few unlikely heroes to save the town from an evil witch. This one looks like it's going to be pretty good. The animation looks just as good as it did in Coraline, but it may be better. It looks like it might be a little more juvenile, however. I have high hopes for it, considering the fact I loved Coraline.
HOTEL TRANSYLVANIA
Release Date: September 28
Directed by: Genndy Tartakovsky
In this creature-themed movie, we learn that all monsters, from Frankenstein to the Wolfman, all go to one place to rest up and that's Hotel Transylvania, owned by Count Dracula (played by Adam Sandler). On this particular night, it happens to be a celebration for the daugther of Dracula, Mavis's (played by Selena Gomez) 118th birthday. However, the unlikely happens and a human wanders into the castle. To keep things cool, Dracula tries to give the human room and board, as promised. Yet, the human starts to fall in love with Mavis. Obviously, things don't go too well. This looks ok. It really is a great idea, but it looks like a hit-or-miss, especially with Adam Sandler doing the voice of our lead. Along with the two I mention, the other celebrity voice talents are Kevin James, Fran Drescher, David Spade, Cee-Lo Green, Steve Buscemi, Molly Shannon, Andy Samberg, and David Koechner. If the all-star cast can't make up for the mistakes this might make, than it's obviously doomed. However, I still have some high hopes for this one as well.
FRANKENWEENIE
Release Date: October 5th
Directed by: Tim Burton
Tim Burton decides to revisit his days of animation in this adventure about a young boy who develops a friendship with his dog. However, one day the dog dies, and he's left sad. He gets an idea later on to try a Frankenstein move and bring his dog back to life. He succeeds and now he must keep it secret from his friends and neighbors. Of course, somebody finds out and everything goes wrong. This one looks very retro in its looks, for it's all in black and white and the trailer advertised it as that of a midnight horror movie in the '50s. The voice talents are laced with some of Burton's usuals: Winon Ryder and Catherine O'Hara. However, there are a couple newer faces, such as Martin Landou and Martin Short. The animation brings back the feeling of the Corpse Bride and Nightmare Before Christmas quite well, for Burton's animation is quite distinctive. I believe this one is a true hit-or-miss, but with all the retro-hype surrounding it, and the seemingly-improved animation, I expect it to be loved by a good audience.
WRECK-IT RALPH
Release Date: November 2nd
Directed by: Rich Moore
Disney tries again with their own brand of computer animation with this tale about a classic '80s, video game villain, Wreck-It Ralph (John C. Reilly), getting tired of always being the villain in the game and not being loved by the kids who play these games. So, he sets out game-jumping to find a game he can stay in and be the hero. However, this is not easy with today's games, considering he gets stuck in a kind of war game that's completely new to him. It sounds like a great plot idea, and it looks like it's going to be pretty clever from the trailer. In the trailer, we see villain-cameos from that of Bowser (Super Mario), Dr. Eggman (Sonic the Hedgehog), and the ghost from Pac-Man as well as others. Besides Reilly, we also have voice talents from Jane Lynch and Sarah Silverman. The animation actually looks pretty good too. I have high hopes for this one, but I'm a little worried about it considering that Disney's last new idea for a new animated film, Mars Needs Moms, fell flat. I still am looking forward to this one greatly.
RISE OF THE GUARDIANS
Release Date: November 21st
Directed by: William Joyce & Peter Ramsey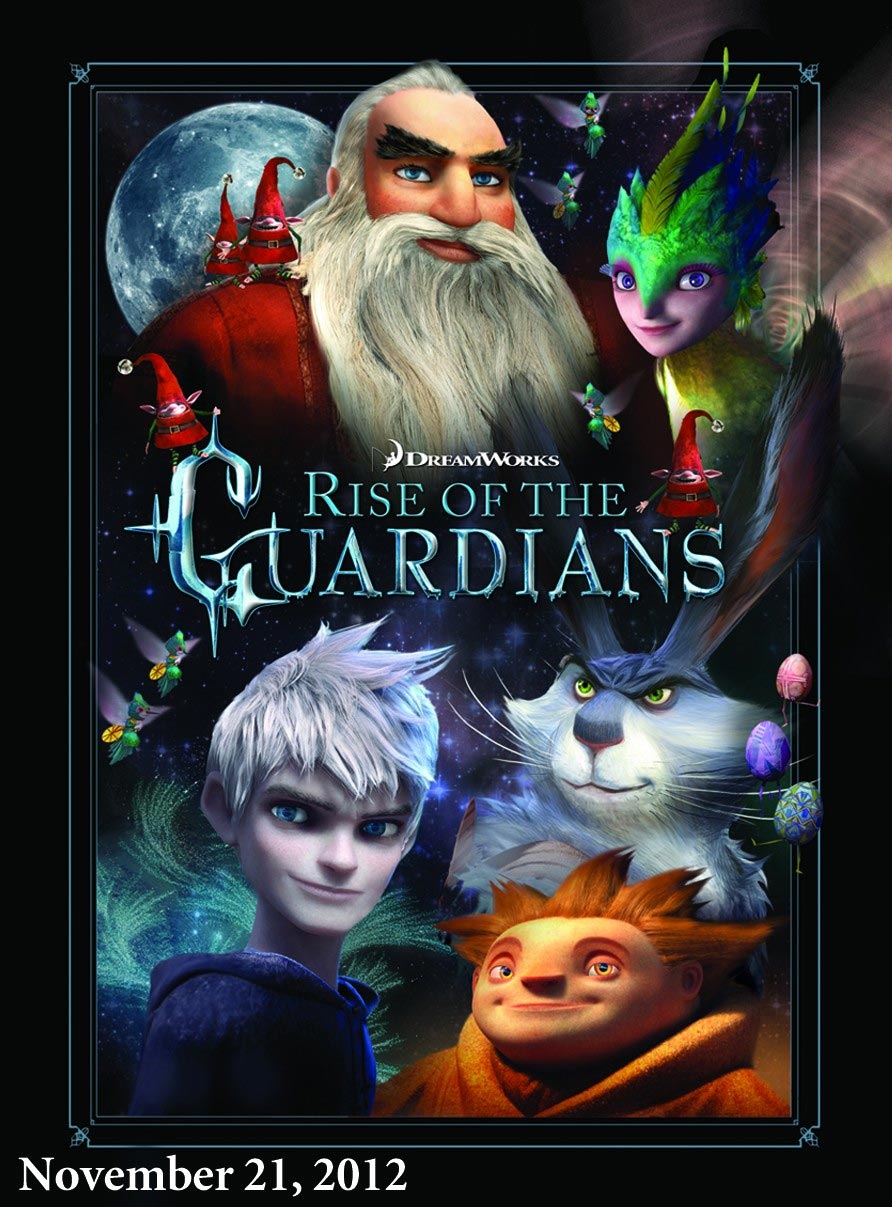 In this animated film, the beloved guardians of childhood, Santa Claus, the Easter Bunny, the Tooth Fairy, Jack Frost, and the Sandman, all band together to protect the children of the world from the nightmarish ways of the boogeyman known as Pitch. It's a very good idea for a plot, but it could easily fall flat on its face. However, with voice talents of Alec Baldwin, Jude Law, Isla Fisher, Hugh Jackman, and Chris Pine and with Guillermo Del Toro producing it, I believe it's going to be quite epic. The trailers are making it out to look epic anyhow. The animation looks pretty stunning just from looking at the trailer, also considering they gave some of the childhood icons a new look. I'm looking forward to it, but who knows how good it's going to be? It's still a DreamWorks movie.
MONSTERS UNIVERSITY
Release Date: 2013
Directed by: Dan Scanlon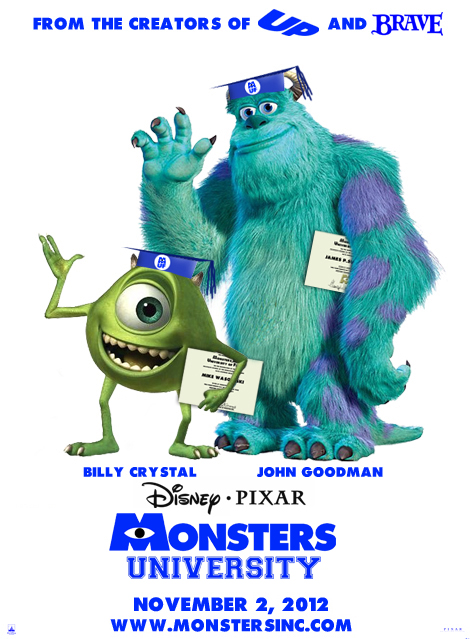 The much-awaited sequel for the 2003 hit, Monsters Inc., has finally arrived. However, it's not in fact a sequel, but a prequel. This movie documents Mike and Sully's college days: how they met, how they became friends, and how they became the top scarers they are today. This one is another true hit-or-miss. I don't think a prequel would've worked as well as a sequel. You had more to do with a sequel than you would with a prequel to the original Monsters. Of course, we still have our two lead voices coming back to reprise their roles as Mike and Sully, Billy Crystal and John Goodman, and we also have Steve Buscemi, Dave Foley, Jennifer Tilly, Frank Oz, and (of course) John Ratzenberger. If they do this right, it could be a pretty good sequel. However, this could suck a lot if they don't put in the right amount of spirit as they did in the last one. Come on, Pixar, let's do this right!
EPIC
Release Date: May 2013
Directed by: Chris Wedge
This is the one I know the least about, for I only saw the trailer in the new Ice Age movie, but from what I've gathered, it's about a herd of bugs that have summoned these small people called Leaf Men to protect them from an evil spider queen. This one, like Rise of the Guardians, was based on a book series written by William Joyce. The animation looks quite dazzling to say the least, but is it going to be good? Well, it's from the makers of Ice Age and Rio, so it's another hit-or-miss. It's really hard to tell how this one's going to be, but I predict that it's going to be quite magical. The voice talents in here are pretty diverse, including Beyonce, Colin Farrell, Josh Hutcherson, Amanda Seyfried, Johnny Knoxville, Aziz Ansari, Pitbull, Jason Sudeikis, and even Steven Tyler. With that voice cast, what could go wrong? Lots, if used wrong.
FINDING NEMO 3D
Release Date: September 14th
Directed by: Andrew Stanton
This one's really not new, I just wanted to include it because I'm also looking forward to it. I saw the 2D version in theaters when I was a little kid and I always wonder what it'd look like in dazzling 3D, with all the colorful reefs, menacing sharks, a sharp-toothed barracuda, and even a scary anglerfish. The animation has and always will be magical, stunning, and brilliant, but in 3D, unless the go all digital wash-out on it, it'll be even better. Those are my hopes, at least.
...And there you have it. Those are my thoughts on the upcoming animated films in this year and early next year. I hope you enjoyed reading my thoughts on each. Thanks for reading and stayed tuned for reviews!