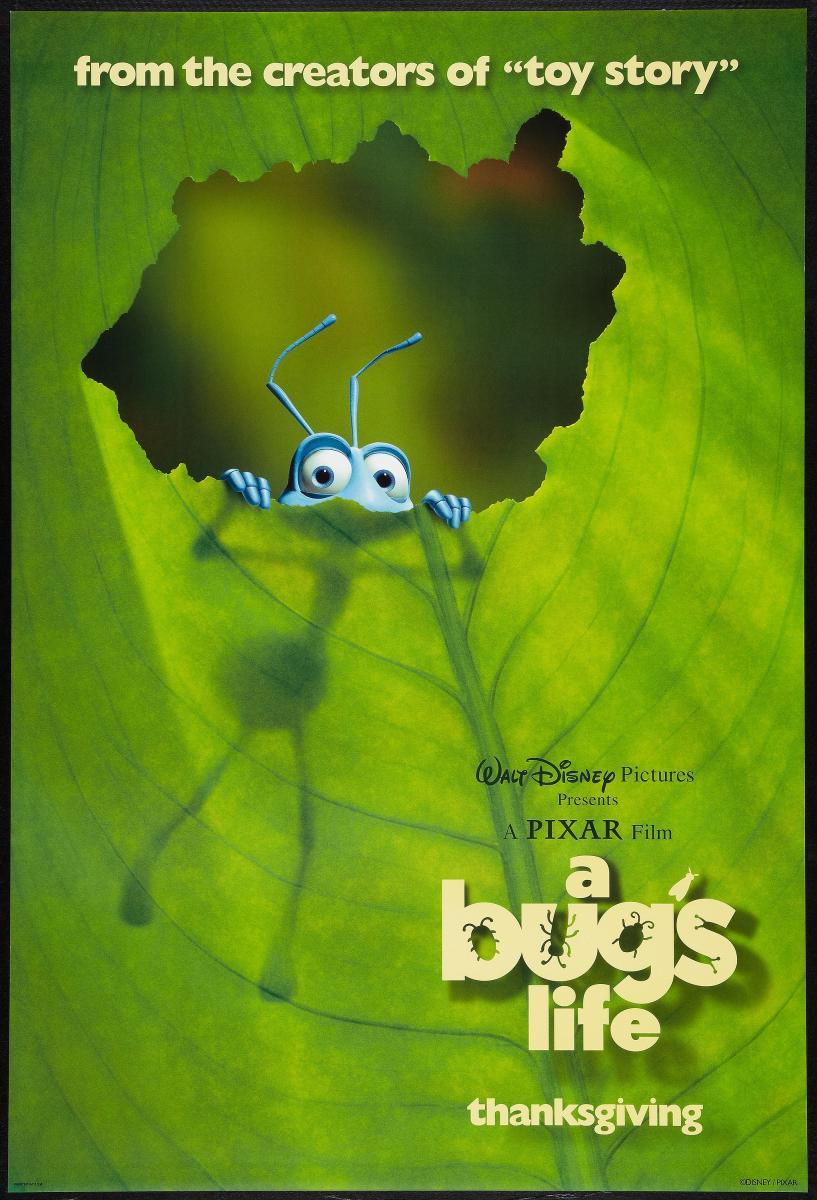 (10/10)
A lot of Pixar fans say this is one of the weakest films they made, but the voice acting, clever script, beautiful imagery, and simplicity of the story come together to make it an overall great film.
PLOT:Flik (Dave Foley) is an oddball ant in his colony on Ant Island. He always tries to come up with a new way to gather grain and food faster to reach the ants' annual goal: collect enough food to offer to the grasshoppers, who offer them "protection" while really pushing them around, and then scavenge enough for themselves. However, Flick really screws up with one of his inventions and loses all of the food gathered up for the grasshoppers, causing them to burst into the anthill and demand twice the amount of food by the end of the season. Flik then, to the great disappointment of Princess Atta (Julia Louis-Dreyfus) and the rest of the colony, stands before trial to be sentenced. Flik comes up with an idea, though, to go out to the city and find bigger bugs to help them fight the grasshoppers away. Granting Flik his wish in hopes he won't return, the council sends him out to the city where he finds a group of bugs appearing to be tough. However, little does Flik know that they are circus performers. It's a good plot executed very well.
VOICES:The voice acting is done very well and just very well cast overall. Dave Foley plays a great part as the outcast hero, Flik, as does Julia Louis-Dreyfus as the princess-in-training, Princess Atta. Kevin Spacey also plays a very great part as the villain and leader of the grasshoppers, Hopper. There really isn't a bad performance in the whole film. The other shiners would have to be Phyllis Diller as the Queen, Richard Kind as Molt, Hayden Panettiere as Dot, Joe Ranft as Heimlich, David Hyde Pierce as Slim, Jonathan Harris as Manny, Denis Leary as Francis, Madeline Kahn as Gypsy, Michael McShane as Tuck and Roll, Roddy McDowell as Mr. Soil, Bonnie Hunt as Rosie, and John Ratzenberger as P. T. Flea. The cast is nearly all-star as is.
SCORE:The score in this film is light and very well composed by the great Randy Newman, with a unique theme and original song, called "The Time of Your Life".
ANIMATION:The animation in this film is very beautiful and pretty detailed for its time. The animation of the blue sky, green trees and grass, and the many different colors of the bugs are just beautiful, colorful, and detailed overall. If you don't appreciate the movie for its story, you could at least appreciate it for the beautiful, early Pixar animation present.
OTHER CONTENT:This Pixar film is known as one of the weakest because it doesn't go as deep and intricate into its story and lesson as the likes of Wall-E or Ratatouille. However, I believe the pure simplicity of the story and its lesson of making a difference and standing up for yourself is enough to accomplish the simple task of making a great film and entertaining the masses. I will admit, I'm also partial to this film because it was a major part of my childhood and the memories that came with it. However, this Pixar film also has some pretty smart dialogue between the characters to match, played off the characters very well. I honestly don't see that much of a flaw in this film. It's simple, beautiful, and well-acted to say the least.
OVERALL,it's a great animated film with a great plot, very well done voice acting, light and well composed Randy Newman score, beautiful animation, a simple and entertaining story and lesson, and some smart dialogue.