(4/10)
The reason I didn't hate this as much as I should've was probably because I was watching it with a friend, but it still wasn't too bad. There were a good bit of parts it was very funny.
PLOT:It's Christmastime and things are going screwy in this California setting. Philip (Steve Martin) is the manager of a company named Lifesavers, which is a dedicated suicide hotline. Working with Philip is Blanche Munchnik (Madeline Kahn) and Catherine (Rita Wilson). Things are running pretty smooth around Lifesavers until the landlord (Gary Shandling) gives Philip the eviction notice of their company. Philip must keep it a secret from his co-workers while still dealing with his many calls, including the pregnant and stressed-out Gracie Barzini (Juliette Lewis) and the cross-dressing Mr. Lobel (Robert Klein). It's an ok plot executed almost decently.
ACTING:The performances in here were okay. Steve Martin played a pretty good part as the stressed and depressed Philip. Rita Wilson played a pretty decent part as Catherine and Madeline Kahn played a good part as Mrs. Munchnik until the near-end of the movie. Adam Sandler played in this as the delivery boy, Louie, but he actually isn't as bad as most of his roles. Maybe it's because this one isn't a leading role. The other shiners, so to speak, were Juliette Lewis as Gracie Barzini, Robert Klein as Mr. Lobel, Anthony LaPagilia as Felix, Gary Shandling as Stanley Tannenbaum, Rob Reiner as Dr. Kinsky, and Jon Stewart as one of the tree carriers. However, none of the roles except for the first three were really good at all.
SCORE:The score was made up of mainly Christmas music, so it wasn't too bad.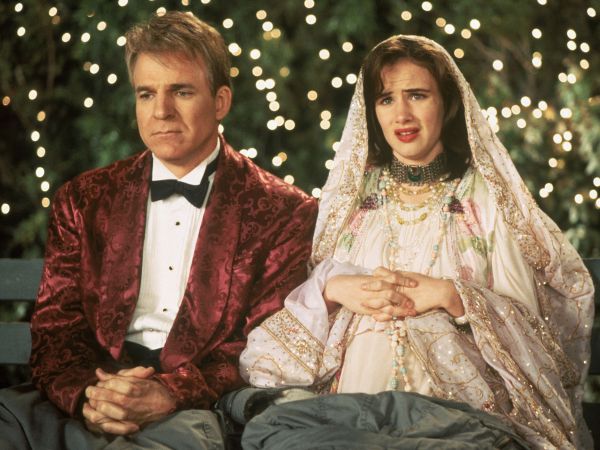 OTHER CONTENT:I didn't hate this as much as I expected to because I had a friend pointing and laughing at certain things, plus it did have some hilarious parts. Overall, though, most of the jokes and plot twists fell flat.
OVERALL,an ok movie with a near-decent plot, okay acting, Chrsitmas score, and some hilarious parts, but most of it just fell flat.