(7/10)
This adaptation of the popular isn't as bad as some may think, and it does make itself different from the others in many ways. However, all of the Hollywood jazz and added scares deter from the meaning.
PLOT:Seven Christmas Eves after his business partner, Jacob Marley, dies, Ebenezer Scrooge (Jim Carrey) is still as cheap as he's ever been, turning away charities and shunning his nephew, Fred (Colin Firth). He gives his assistant, Bob Cratchit (Gary Oldman), the day off Christmas and heads on home. However, when he gets home, he's visited by the tormented spirit of his former partner, Marley (Gary Oldman), who tells him that he shall be visited by three ghosts to help him change his miserly ways. It's the same great plot executed very differently this time around; however, it's still a good adaptation.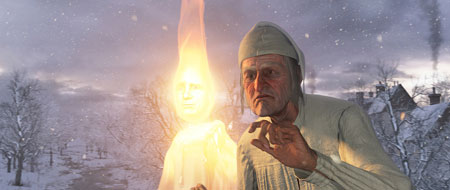 VOICES:The performances in here are pretty good I'd say. Jim Carrey played a great part as Ebenezer Scrooge, even though every bit of dialogue he spoke as him was over-enunciated. Jim Carrey also plays the voices of all of the ghosts: Christmas Past, Present, and Yet to Come (though he barely spoke). A good bit of the actors voiced multiple roles as well. The shiners besides Carrey would be Gary Oldman as Bob Cratchit/Jacob Marley, Colin Firth as Fred, Bob Hoskins as Fezziwig, Robin Wright as Belle/Fan, Cary Elwes as many multiple roles, and Fionnula Flanagan as Mrs. Dilber.
SCORE:The score is mainly made up of popular Christmas songs and some dramatic score. It was a pretty good soundtrack, though it doesn't really matter as much as other aspects of the movie.
ANIMATION:The animation in here is very great. It's like that of The Polar Express, but better. Every character's main role is animated as if they were acting that role visually on-screen. The animation fit the characters' faces to the last wrinkle, minus what they added on for effect. The animation is dazzling, to say the least.
OTHER CONTENT:This adaptation of Charles Dickens' classic novel isn't as bad as some make it out to be. It follows the book's dialogue to the letter, adds the emotion needed, and dazzles with its animation and performances. However, some things Hollywood adds take the Christmas spirit out of the movie. The scares they added into the story are the main culprit. The director added a few unnecessary scares to make it worthy to Hollywood and the general public and to try to enhance the lesson in it. However, it does the exact opposite and covers up most of the warm feeling with dread and horror, from things such as a deteriorating Marley in the spirit world, to personifications of Ignorance and Want, and even demon horses led by Yet to Come. They put a little too much Hollywood sparkle and scare in here for it to be that great of an adaptation. Even I, as a horror fan, admit it's too much for a family holiday film.
OVERALL,a good Christmas movie with a differently-adapted plot, good performances, pretty good score and soundtrack, very great animation, and accuracy to the book, but the added Hollywood pizazz and scares take away some of the warm feeling and the lesson it's supposed to give.