(8/10)
Ever since Requiem, I've wanted to see more of Aronofsky's work, and this film reassures me how much of a good and visionistic director he is. This film is trippy, smart, and like nothing done before, but a little too far out for some.
PLOT:Max Cohen (Sean Gullette) is a Jewish athiest who experiments with numbers daily and suffers from chronic headaches that seem to come from nowhere. He believes everything in the universe is connected in a pattern due to number theory. One day, Max stumbles upon a breakthrough when his computer crashes, printing out a fragment of a 216-digit number. This is where most of the trouble starts. Max thinks nothing of it until he realizes that his numerical guesses on how the stock market will fall are on-the-dot correct. He then goes to several sources trying to figure out how everything is connected with numbers, including his older friend, Sol Robeson (Mark Margolis), who studied the theory of pi until he had a stroke, his new friend, Lenny Meyer (Ben Shenkman), who is also a Jewish number theorist with the exception of being very religious, and even to the lady that keeps calling him, Marcy Dawson (Pamela Hart), who wants to sell him something big. The end result is a slice of mathematical chaos. It's a very good plot idea executed brilliantly.
ACTING:The acting in here is pretty great. Sean Gullette plays a magnificent part of the complex mathmetician and number theorist Max Cohen. His narration, emotional breakdowns, and physical acting carried the film and its madness along. Other shiners would be Ben Shenkman as Lenny Meyer, Pamela Hart as Marcy Dawson, and Stephen Pearlman as Rabbi Cohen.
SCORE:The score is done by Aronofsky's usual, Clint Mansell (Requiem for a Dream); it's very different and more modern-sounding. I particularly liked Requiem's soundtrack better, but Mansell still succeeds in making the score haunting and surreal to the way the film is going.
EFFECTS:There are a few effects involving blood and a brain, and they are used fairly well to create a frustrating and trippy sense of insanity for our main character.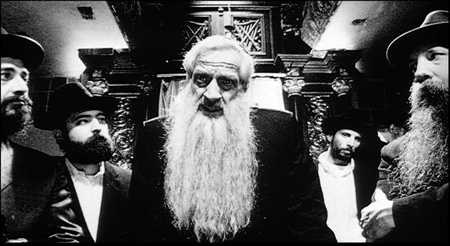 OTHER CONTENT:This film is like nothing I've ever seen before. It's trippy, wisely-plotted, and insane in its execution, but that can be a problem. Aronofsky always has a knack for doing things the general public would rather turn from or avoid, and this film falls nothing short of that. The overall idea of the plot is so far out there, that it just comes off as highly unlikely; in fact, it almost comes off as silly due to how far out there it really is. It's definitely not in everyone's taste. However, you can tell indefinitely that this is an Aronofsky film from the similar brief-cut editing as seen later on in Requiem. This and the decision to shoot it in black-and-white remind you of how great a director Aronofsky is.
OVERALL,a great film with a brilliant plot, great acting, haunting score, well-used effects, trippy images, wise plotting, insane execution, and visionistic editing from Aronofsky's mind, but it's a highly unlikely idea that is not in everyone's taste by far.